BRAND NEW BOOK!
From the award-winning business leadership speaker Jim Alampi, ACCELERATING STRATEGIC EXECUTION presents a unique system to identify, categorize, and prioritize mission critical aspects of your key success factors: PEOPLE, PROCESS, and CULTURE.
The changing dynamics of expanding companies usually creates new and often unfamiliar barriers to growth. With over 30 years of high-level business experience as a CEO, owner, and advisor, Jim Alampi has helped guide thousands of business leaders to greater profitability and efficiency. It is that exceptional exposure to so many uniquely operated companies that has graced Jim with an exceptional scope of experience and insight to the dynamics of growing successful businesses.
Some of Jim's diagnostic tools are free and online including the Strategic Execution Accelerator's SEA DYNO, an extremely insightful tool that can quickly reveal specific issues that need attention. ACCELERATING STRATEGIC EXECUTION can be your handbook resolving the concerns you identify with the SEA DYNO. (seadyno.com)
This book provides: insightful discussion; a finely tuned business performance diagnostic methodology; specific recommendations to resolve the issues revealed by the process; and more.
Order now from Amazon (print or Kindle)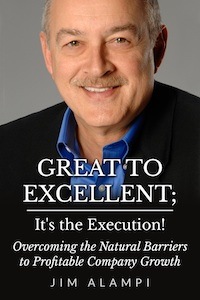 Great to Excellent; It's the Execution!
Jim Alampi has spent his career leading companies, from a $325 million auto auction business (NASDAQ: IAAI) to a $1.5 billion chemical distribution business (NYSE: UVX). For the past twelve years he has helped entrepreneurs in the areas of leadership, strategy and execution. He has been a director on 20 Boards and has chaired four of them. He created the proprietary methodology, The Execution Maximizer to help CEOs get from vision to execution and results.
NEW BOOK! Click on the cover to order from Amazon (print or Kindle)